eFootball™ 2023 SEASON 4
The theme for Season 4 is "Develop. Design. Define."
As we close in on the business end of the European season, the key to coming out on top in these increasingly challenging fixtures is none other than "team building".
Improving players' individual skills and further developing the collective prowess of the team are the two facets of team building that could well set apart the winners from the losers.
Enjoy heated competitions with the ever-evolving "Dream Team"!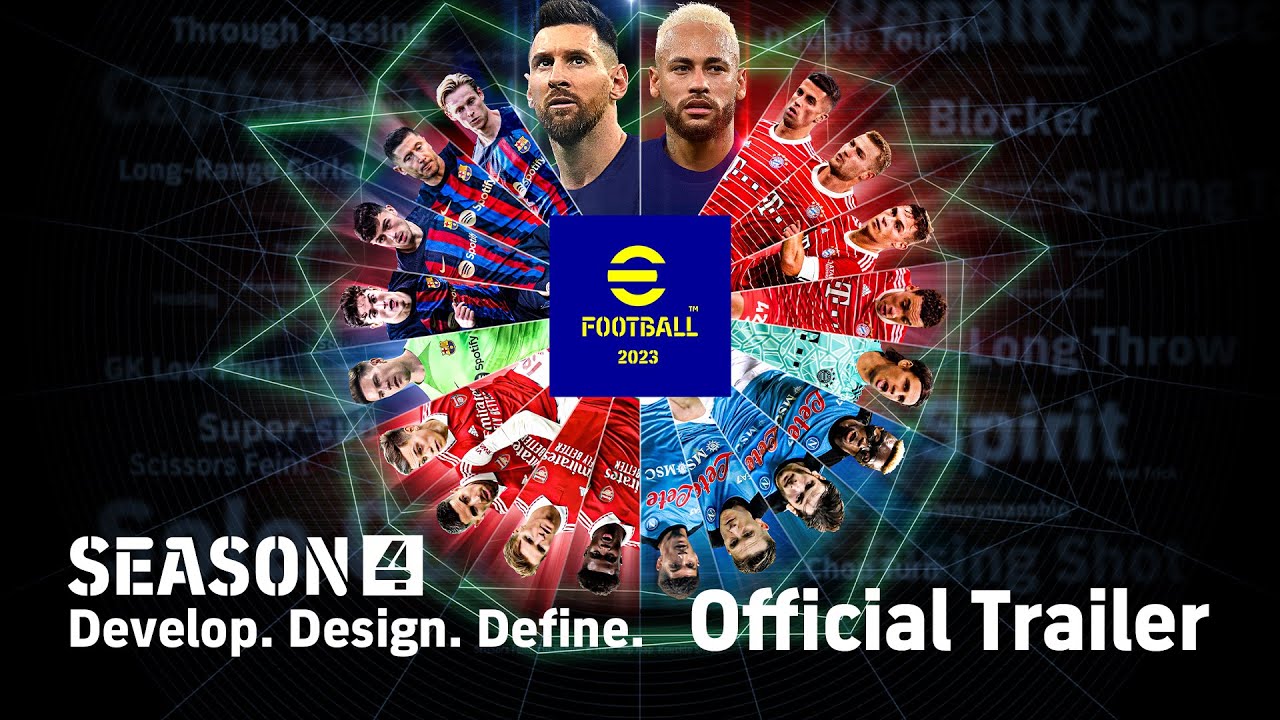 Evolutionary Features for Team Building
Enhance Player Individuality with Additional Skills
Skill Training has been added to further aid you in your quest for player development.
Apart from the Player Skills (up to 10) that the players initially possess, they will now be able to learn up to 5 Additional Skills.
To do so, simply use a "Skill Training Program", and add a random Player Skill to the available Skill Slots.
*Players will not be able to learn a Skill they already possess.

Add some extra Player Skills to your favorite players, and expand their range of play.
Carrying Over The "Legacy"
Develop Your Players Rapidly with "Legacy Transfer"

You can transfer a player's Experience Points and Additional Skills onto another player using "Legacy Transfer".
Legacy Transfer requires GP, and the exact amount of GP will correspond to the player whose Experience Points and Additional Skills are transferred from. The more well-developed the player, the more GP it requires to have his expertise transferred.


*Once the process is complete, the player used for Legacy Transfer will be erased.

Maintain Competitiveness by Renewing Player Contracts

Winning the tough battles will require not only the development of new players, but also the help of those already on the team.
When releasing 5★ Player Value players other than the "Standard" Player Type, you will now be able to get "Contract Renewal (10 Days)" on top of GP and training items.
Furthermore, "Contract Renewal (10 Days)" will also be made available in Match Pass and as other rewards.

Take this opportunity to bring players with expiring or expired contracts, as well as fringe players back to your Dream Team.
Additional Player Slots
Having squad variations is a certain edge when going up against opponents of different styles.
The current player slots quota of 500 can now be gradually expanded to a maximum of 900 using GP. (500,000 GP for 50 additional player slots)

You can now have more players at your disposal, and enjoy building a more diverse team than ever before.
More Ways of Enjoying "Authentic Team"
Additional Selectable Teams in Trial Match

As AFC Champions League and Hilux Revo Thai League reach their respective climaxes, their teams will be available in Trial Match. What's more, teams from the American League will also be added to Trial Match as they anticipate the start of yet another exciting season, bringing the total number of selectable teams in Trial Match to 235. Use your favorite teams, and enjoy exciting matchups!
Archives