eFootball™ 2023 SEASON 3
The theme for Season 3 is "Back to the Clubs".
As the fierce battles of national pride come to a close, the players have returned to their respective clubs. Once again, the battlefield shifts from international action to the domestic leagues.
The meteoric rise of young superstars, the destined comebacks of veteran players reeling from frustration, and winter transfers that are sure to bring new life to teams... Be a part of the club soccer excitement with eFootball™!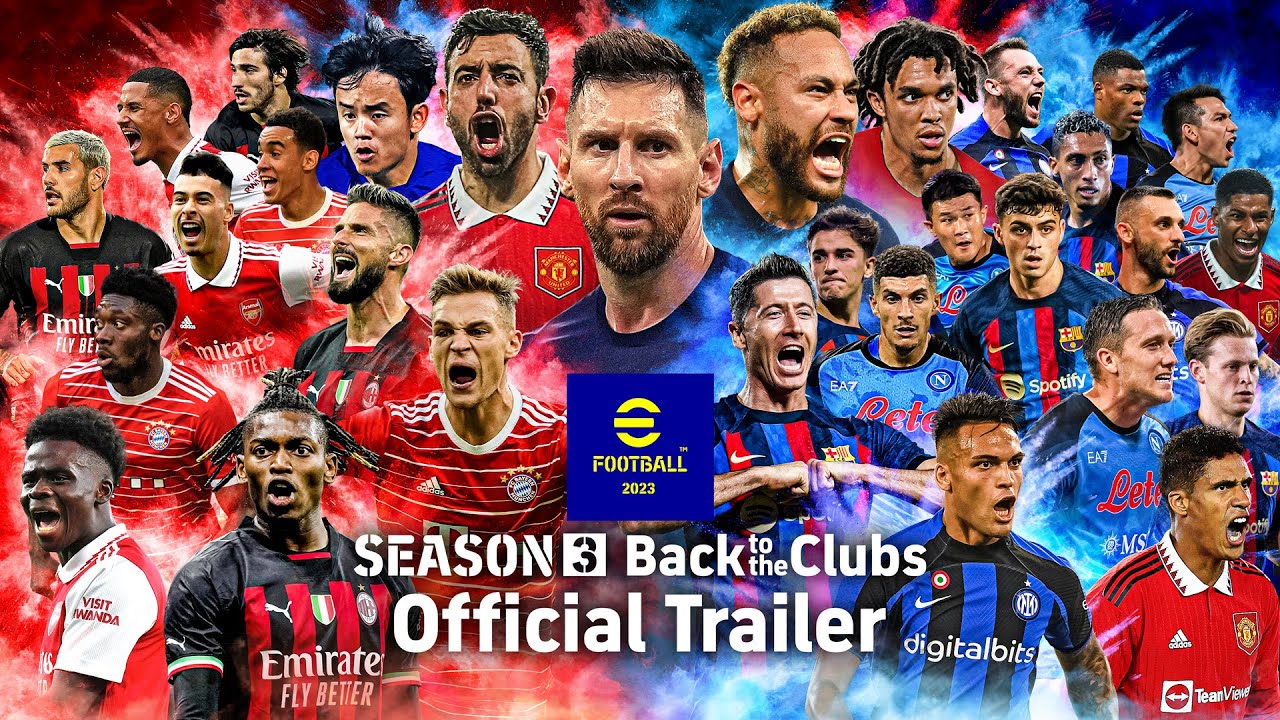 A Bevy of Players in Line with the Season's Theme!
Season Highlight

A series of Special Player Lists will be introduced to match the theme of Season 3, including top performers from the first half of the season and perennial icons of the respective clubs.

Derby day

When city rivals and teams of significant proportion go up against each other in a vehement contest for pride and bragging rights, sparks will fly, and the temperature is sure to rise. This is the romance of derby matches.
As the fans tune in with the rest of the world in anticipation of some riveting soccer action, you can also be a part of the derby drama by acquiring the services of players who are in the midst of the limelight from "Derby day".

Club Selection

Introducing weekly Special Player Lists of European soccer powerhouses.
Bolster your squad with players from your favorite clubs and take on your rivals.
Lead Your Team Through the Leagues!
Also on the cards are major European league-themed weekly Challenge Events and Tour Events as well as other national leagues.
In these Challenge Events, users will play against each other using squads made up entirely of players belonging to the featured leagues.
Strengthen your team by picking standout players in the respective leagues and enjoy the heated clashes.
eFootball™ Championship Open 2023 Season Begins
eFootball™ Championship Open is the largest official eSports tournament of the eFootball™ series, where users from all over the world compete against each other using "Dream Team".
Round 1, which starts at the end of January 2023, does not require any special conditions of entry. Take part by simply participating in the Challenge Event in-game.
Fulfilling the clear conditions of Round 1 is only the first step though. Advance through Round 2, Round 3, and Online Finals to book your place in World Finals, which will take place offline in July!
As a brand-new introduction for the 2023 season and beyond, the coveted Online Finals will also feature professional players from clubs participating in the eFootball™ Championship Pro.
The top-ranked competition, World Finals, will be the first official eFootball™ competition to be held offline.
All the action will be broadcasted online to the world, and we can all bear witness to the crowning moment of the undisputed world champion.

Take your one-and-only "Dream Team" to the top of the world!
Archives