eFootball™ 2022 SEASON 2
eFootball™ World will be entering Season 2.
After providing us with yet another year of end-to-end excitement, the players and the newly crowned champions will be making their presences felt in eFootball™ World.

Season 2 will be kicking off on 16/06/2022.
Let us revisit the highs and lows of this football season, as we further immerse ourselves into the fierce battles between Dream Teams.
European Leagues Highlights -Clubs, Team Playstyles and Prime Players-
When it comes to the game of football, tactical applications could become a decisive factor between victory and defeat. As a sure-fire way to victory, it is paramount to instil and embody your tactical ideologies onto the team.
In "Dream Team", you can bring your favourite tactics into life in the form of "Team Playstyles". By acquiring the services of players and managers that align with your preferred Team Playstyle, your team will function as a collective and put up high-level performances. Each player and manager has his preferred Team Playstyle, so make sure you pick the ones that best fit your ideology.
Season 2 will be focusing on this very concept of "Team Playstyles". Players from European league clubs with an outstanding 2021-2022 campaign will be introduced with enhanced Team Playstyle Proficiency levels and unique card designs.
Season 2 will kick off with selected events between 02/06/2022 and 16/06/2022.
We will also be holding a special login bonus campaign for you to get your hands on a variety of in-game items such as eFootball™ Coins and Nominating Contracts. These items will come in handy for you to develop your players and bring your "Dream Team" to the next level.
Equip yourself with rewards from events and login bonuses, and lace up for the full-scale launch of Season 2 on 16/06/2022.

Dream Team Power Packs
An immediate reinforcement of 11 players and training items ー Introducing a series of one-of-a-kind booster packs that will surely be an electrifying addition to your Dream Team.

‐Premium Ambassador Pack (2 types in total)

A special 11-player pack centring around L. Messi and Neymar Jr respectively.
Alluding to the preferred Team Playstyle of their respective centrepieces, each of these packs consists of 11 players with enhanced Team Playstyle Proficiency. Add a manager that matches their Team Playstyle Proficiency to the mix and you will be rewarded with a breath-taking Dream Team.

‐Premium Club Pack 21-22/Club Pack 21-22

The contents of Premium Club Packs 21-22/Club Packs 21-22 are based on transfer data of the 2021-2022 season.
A must for the passionate supporters, these are club-themed packs filled with players from a specific club team.
Not only that, a handful of footballing powerhouses will come with a special card design, created exclusively for the superfans.
Bring your beloved club team players onto the pitch, and further develop them to create your very own Dream Team!

These packs will be available from 16/06/2022, when Season 2 kicks off full-swing.
Information regarding players included in these packs will be available at a later date.
Dream Team Updates
The following elements will be added into Dream Team.

Objectives

"Objectives" are challenges, which you can complete by playing the game in a specific way, that give out amazing rewards. You can also purchase "Premium Objectives" with eFootball™ Coins and earn more sumptuous rewards!

Legendary Managers

As "Premium Objectives" rewards, you can bring in legendary managers such as J. Cruijff to take the managerial reins of your Dream Team! Comparing to normal managers, legendary managers will have a special Coaching Affinity.

Save Multiple Game Plans

We will be adding a new functionality for you to save multiple Game Plans. With that, you can now build multiple Game Plans based on different tactics and events on offer. Managing and accessing your Game Plans have never been easier.

Suggested Progression Points Allocation

To provide a more streamlined Player Progression experience, we will also be introducing the "Suggested" functionality. Progression Points can now be automatically allocated at the push of a button.
Launch of "eFootball™ 2022" Mobile
We are delighted to finally bring you the mobile version of "eFootball™ 2022".
New commands for you to revel in the modern game of football, as well as a major revamp of player animations and ball behaviours ー Experience console quality gameplay in the palm of your hand! "eFootball™ 2022" Mobile Update Overview and New Commands

Previously introduced on console, the new team building mode "Dream Team" will also be available on mobile; You can now go full-strength against fans from around the world.

*Player Lists that were released during "New Gameplay Approach", one of Season 1's themes, will also be available in the mobile version.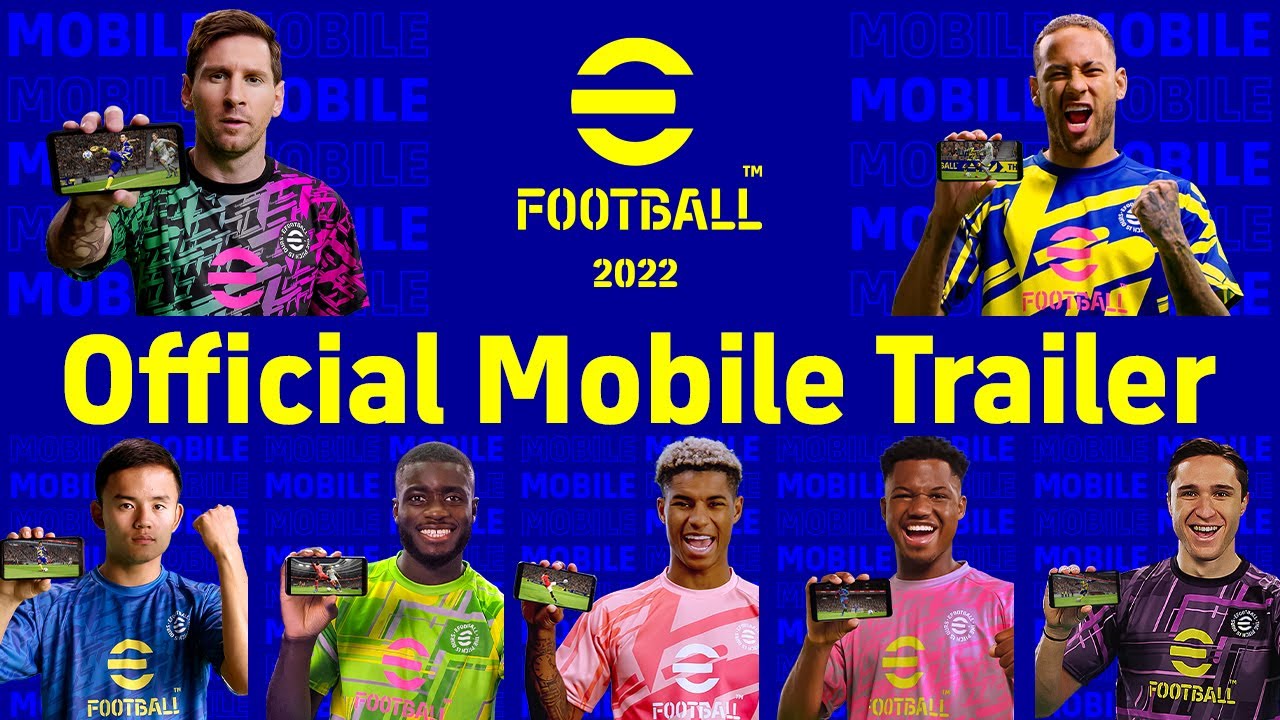 Archives